1982 through 1992 Camaro Heritage Racing Stripes and Graphics – (available at www.vinylstripes.com or www.rallystripes.com)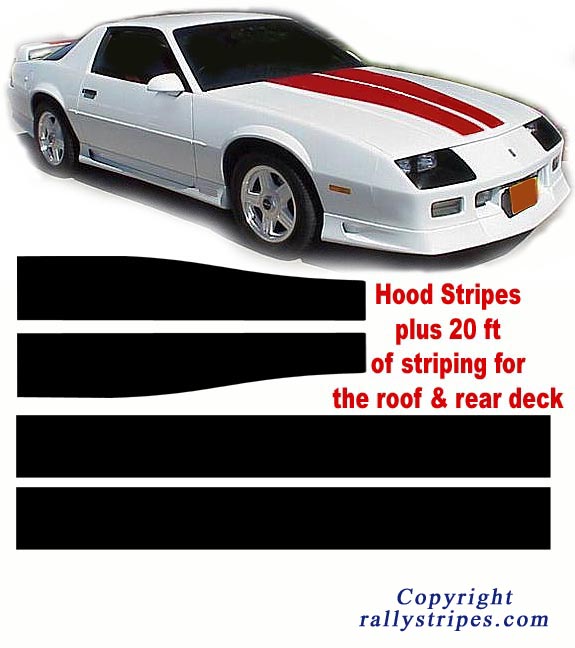 The 1982 – 1992  Camaro is the third Generation Camaro.  This generation Camaro had some hoods that were plain with no scoops or obstructions and other hoods that had grills or small scoops.  Note – the Heritage Kit on the car above is for "plain hoods" with no grills or scoops.  Our Heritage is designed to favor the 91 – 92 Camaro stripe kit. It will fit any 1982 – 1992 Camaro with a plain hood. (no grills, scoops or blisters)

(Note – Our stripes consists of a self adhesive vinyl film and a peel off backing that is removed prior to application.)
On hoods that are "plain" with no obstructions you can use pretty much any width stripe you want within reason. This would include 6″ stripes, 8″ stripes, 10″ stripes or 12″ stripes. (straight stripes)   We have found that the most popular widths are  8″ and 10″. People that want a main stripe and then pinstripes on the outside go with the 8″ plus pinstripes and people that want just the stripes with no pinstripes often go with the 10″.  We call these generic stripe kits because they fit almost all cars.  The kits come as a 30 or 36 foot roll of striping that you cut to fit the hood, roof and rear deck.  You can also get pinstripes that are applied after the main stripes.

On hoods where there are grills or scoops you will need to trim any kit you purchase from our sites.
The kits below are 10″ wide.